Our Inspiration
"Health is a Disease-free body, Quiver-free breath, Stress-free mind, Inhibition-free intellect, Obsession-free memory, Ego that includes all, And Soul which is free from sorrow."
- H.H. Sri Sri Ravi Shankar.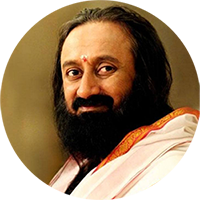 About Healthy Needs
Sri Sri Tattva, having huge demand for its product range across the globe, is coming up with specialty store in the form of Healthy Needs in Australia. Set up by committed individuals with the blessings of H.H. Sri Sri Ravi Shankar, Healthy Needs offers high-quality Ayurveda, natural products with a goal of promoting holistic health and wellness to every Australian household. We are passionate people who live and breathe natural health. We believe everyone has the right to a healthy body, a healthy lifestyle on a healthy planet. The world at large is turning back to traditional and natural systems of wellness and is beginning to rediscover the benefits of Ayurveda in day to day life. The need for a holistic approach towards lifestyle and health is gaining importance in today's fast paced life and people are adopting natural, authentic products for long-term betterment of health. We draw a great inspiration from Sri Sri Ravi Shankar and promise to spread this legacy of wellness across Australia.
About Sri Sri Tattva
Founded under the guidance of Sri Sri Ravishankar Ji, a global spiritual leader and humanitarian, Sri Sri Tattva is a complete health and wellness brand. Sri Sri Tattva offers a wide range of effective Ayurveda medicines, personal care products, food & nutritional products, organic products, health supplements and more. Sri Sri Tattva has developed strong multi-dimensional capabilities across the Ayurveda value chain making it a leader in service excellence in the field. The brand presents a strong commitment to social responsibility and proudly supports the Art of Living foundation's rural and social welfare projects. Over the years, the goodwill earned is a result of our attention to bringing across safe, effective, high quality and responsible products. Sri Sri Tattva manufacture quality products at state of the art facilities with the common goal of reviving Ayurveda in its truest form. One of Sri Sri Tattva's Unique selling proposition is all doctors and staff members meditate before making the products. A positive state of mind and good intention of healing reflects in the products.
Manufacturing Facilities
Sri Sri Tattva enjoys world-class R & D with some of the most prestigious certifications.Committed to bringing the best of the modern machinery and the most ancient knowledge together,Sri Sri Tattva's production unit was established in Bangalore in the year 2003. Currently the production for international markets is done at an exclusive state of the art facility of Sriveda Sattva Pvt Ltd. Spread over 1.3 acres, the Ayurvedic factory in Hyderabad is equipped with hi-tech machinery, an in-house laboratory & a committed workforce with the ability to manufacture a range of Ayurvedic products. Committed to maintaining the highest standards of raw materials, production, post-production and quality of our products. The present capacity of the production unit focuses on the manufacturing of the tablets,capsules caplets and churna (powder), Lehyas (paste) and also soon to be introduced is the production of oils and syrups.
360° Value Chain
Sri Sri Tattva aims to greatly enhance the level of health and wellness in the world. With that, Sri Sri Tattva focuses to strengthen each link of the value chain materials, research & development, state of the art manufacturing units, effective retail, training colleges, inspired physicians, hospitals and wellness centers.
The facility has some of the most prestigious International Certifications:
GMP (Good Manufacturing Practice) by AYUSH
GMP (Good Manufacturing Practice) Certified by SGS
HACCP (Hazard Analysis & Critical Control Point) Certified by SGS
ISO 22000:2005 (Food Safety Management System) Certified by SGS
India Organic, NPOP (National Programme for Organic Production) Certified by OneCert
USDA Organic, NOP (National Organic Program) Certified by OneCert
EU Organic (Commission Regulation EEC & Regulation EC) Certified by OneCert
US FDA Facility Registration by Registrar Corp